On Wednesday 19 October 2022, a live online co-creation workshop was held with stakeholders from  Galeb d.d. in Croatia. The agenda included an overview of Project Ô and a group discussion to unearth perspectives on water sustainability concerns and hopes. Project Ô technologies have been installed at Galeb in Omiš, near Split.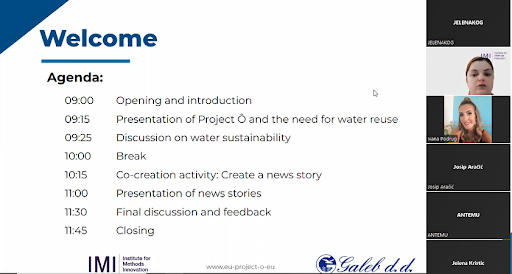 Every day, finite freshwater resources are used and discarded through unsustainable industrial production. It is especially important to reduce the impact of water-intensive industries, such as clothing. Galeb d.d., a clothing factory in Croatia, is working to increase the reuse of finite water resources by building its own water treatment plant. 
Project Ô has developed technologies to become part of Galeb d.d.'s new water treatment plant. It will remove harmful chemicals and organic pollutants and recover salts from the water. The treatment process is designed to automatically mix different streams of treated water to ensure the right salt levels and temperatures for making clothing materials. These targeted treatments enable the factory's immediate reuse of the water, and also boost energy efficiency because the treated water is already optimised for clothing production.
Watch this video about the water treatment module installed in Omiš, Croatia:
The group discussion allowed participants to go into more depth on certain topics, such as the benefits of engaging with Project Ô technologies, impacts on local water chains and the environment, as well as raising public awareness regarding circular water economy solutions.
The final stage of the event was a co-creation activity in which participants were asked to create and share news stories about either the future of water sustainability in their local areas or innovations at the demonstration sites. The participants decided to write a press article on water treatment technologies used at Galeb.
PROJECT Ô TECHNOLOGY IS GREAT FOR WATER PRESERVATION 
Most production companies should be encouraged to implement technologies to ensure water sustainability and the protection of the environment. Technology is an effective way to preserve water. By implementing a circular water economy at Galeb, new input water isn't needed. Because production requires high volumes of water, this is a great start to saving water for the future. Furthermore, technology ensures that used water at Galeb is of better quality. There are also energy consumption savings and cost savings.
Read more about Project Ô's activities in Croatia here.