Supporting the textile industry to allow water and resources to be reused
We need water to survive
But every day, finite freshwater resources are used and discarded through unsustainable industrial production.
It is especially important to reduce the impact of water-intensive industries, such as clothing. For example, on average, it takes 2,700 liters of water to make a simple cotton t-shirt. That's enough water for one person to drink for 900 days. Also, the water used for clothing production is contaminated with chemicals that harm the natural environment, if left untreated.
Galeb, a clothing factory in Croatia, is working to increase the reuse of finite water resources by building its own water treatment plant.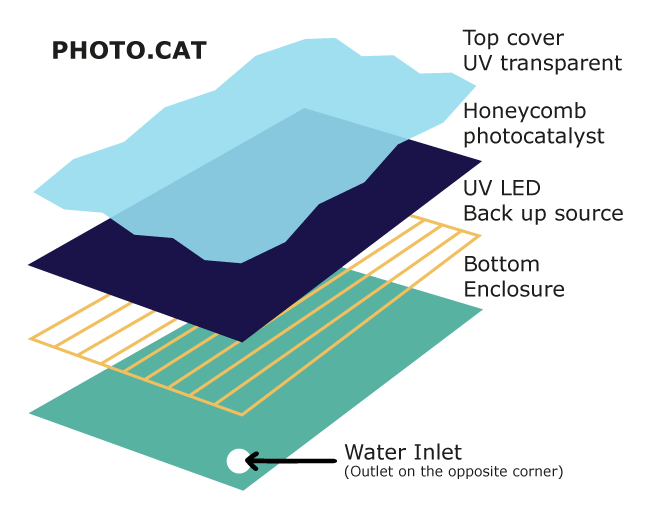 Project Ô has developed the PHOTO.CAT unit to become part of their new water treatment plant
It will remove harmful chemicals and organic pollutants and recover salts from the water.
The treatment process is designed to automatically mix different streams of treated water to ensure the right salt levels and temperatures for making clothing materials.
These targeted treatments enable the factory's immediate reuse of the water, and also boost energy efficiency because the treated water is already optimised for clothing production.
Project Ô has developed a Circular Economy Platform (CEP) to expand business opportunities
CEP includes a tech-selection box
This allows businesses to evaluate which of the Project Ô technology modules has the greatest economic and operational sustainability benefits for their water treatment needs. It also gives businesses the ability to assess if any local collaboration opportunities are available.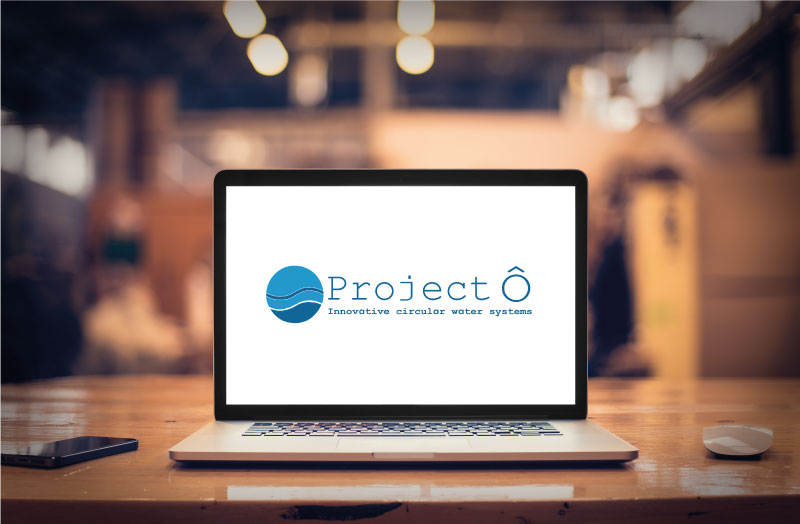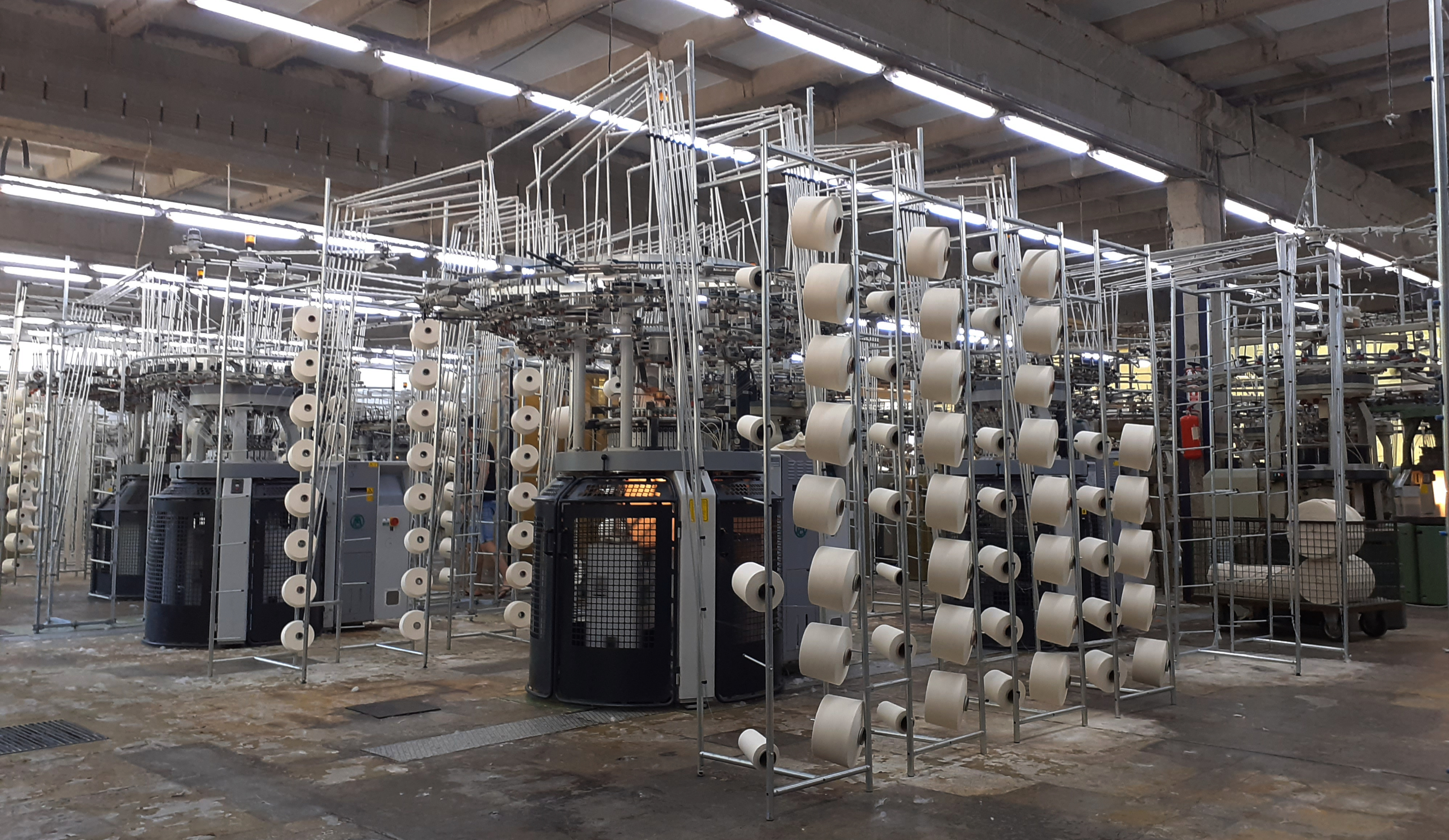 Omiš is a small Croatian town about 26 kilometres south-east of Split
This coastal town has a thriving tourist industry and has been given a Natura 2000 designation due to its environmental importance
Galeb are an established textile company who is building a new factory in Omiš with its own water treatment plant. One aim of the new water treatment plant is to allow Galeb to treat and reuse their own used water. This would reduce the need for fresh input water and allow recovery of dyeing salts for reuse, as well as being more cost-effective and a sustainable use of resources.
It will improve on the following more commonly
applied linear economy approach

Project Ô has developed PHOTO.CAT technology. It is designed to remove these specialist industrial substances, including dyes. Treatment partially removes dissolved salt from the used water, which makes it ideal for immediate reuse in the dyeing process. As dyeing is one of the most water-intensive steps, this has a huge impact on reducing resource use as well as preventing the release of salty water into the environment. CEP will also provide possible opportunities for local collaborations and new business.
By treating their own specialist used water, Galeb can reduce their costs, energy and resource consumption, and protect their local environment.
Project Ô technologies increase the factory's sustainability and efficiency because more water can be reused while requiring less energy. This reduces demands on finite freshwater resources and power supplies.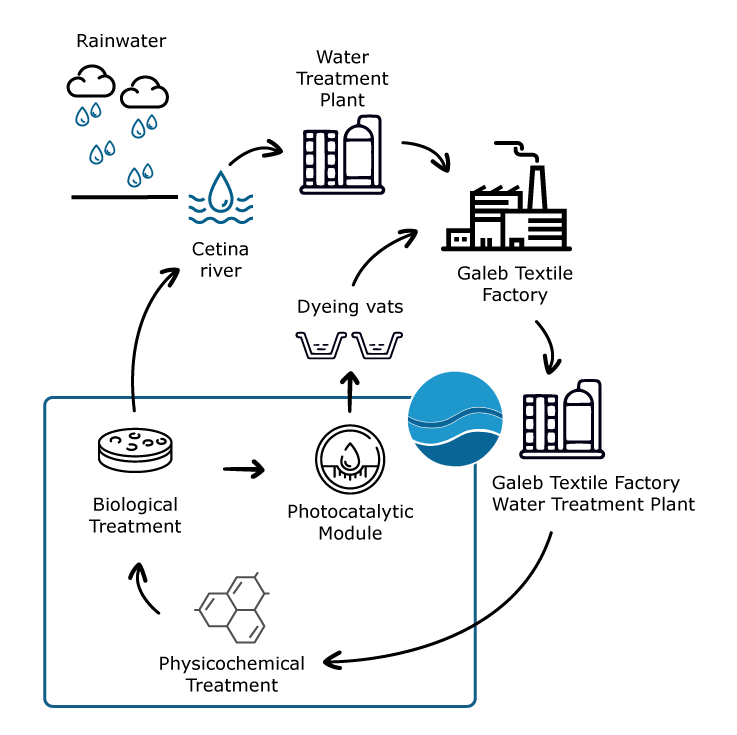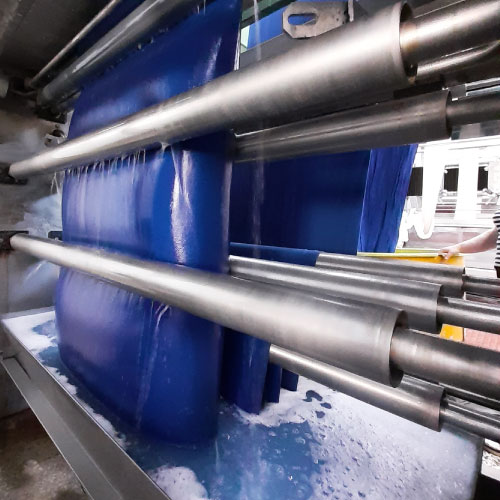 Project Ô technologies have helped close the loop on water use in textile production in Omiš in Croatia
And this leads to other benefits too...
Safeguarding the local environment through specialised water treatments and improving resource management helping to maintain the Natura 2000 designation
Increasing local water reuse

and c

reating huge savings in textile production by maximising resource use without disrupting the local water system

Closing the loop, requires new infrastructure and land uses which can lead to an increase in local jobs in the environmental sector 
Increasing health and safety measures

t

hrough strict regulations, quality standards and management plans to comply with national and EU environmental objectives

Using a sustainable approach to water use and reuse increases resilience to changes in the climate and economy
PHOTO.CAT is a water filtration unit that can treat chemicals used in textile production
It aids water reuse as the process does not affect dissolved salts
The combination with nanofiltration technology allows dye baths to be supplied with reused water that still contains the salts and temperature needed for dyeing. Reuse lowers operating costs and reduces the environmental impact. The benefits of the PHOTO.CAT unit include:
A modular design allowing units to be configured to suit operating needs

Separate used water streams can be treated independently and simultaneously

It can operate continuously, driven by solar power with a low-power LED back-up

It can be used off the grid or in remote locations

The treated water is suitable for cost-effective reuse, while optimising use of resources such as salts and heat energy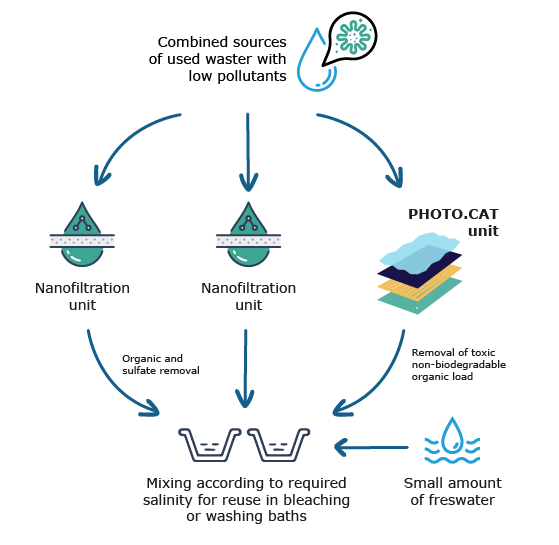 CEP is designed to allow businesses to participate in a circular water economy
The purpose of CEP is to allow for the local trade of water and by-products between different water users involved in water treatment activities

CEP allows key players involved in water treatment activities to interact
by sharing requests, offers, treatment technologies and logistics