More than twenty institutions across Europe and Israel form Project Ô
Project Ô partners are organised into smaller working groups
These working groups connect and flow in sequence to meet the project end goal
This novel process integrates social science research into the development process through direct consultation with audiences impacted by Project Ô technologies. Social innovation is intended to be promoted by incorporating, and even anticipating, stakeholder expectations and objections.
Co-creation projects help build a sense of public ownership of the new approaches and technologies developed by Project Ô. Water management is as much a responsibility for the end users as the regulators, and Project Ô wants to help increase public involvement.
The entire innovation process has an integrated and participative approach, which directly involves the community and the territory.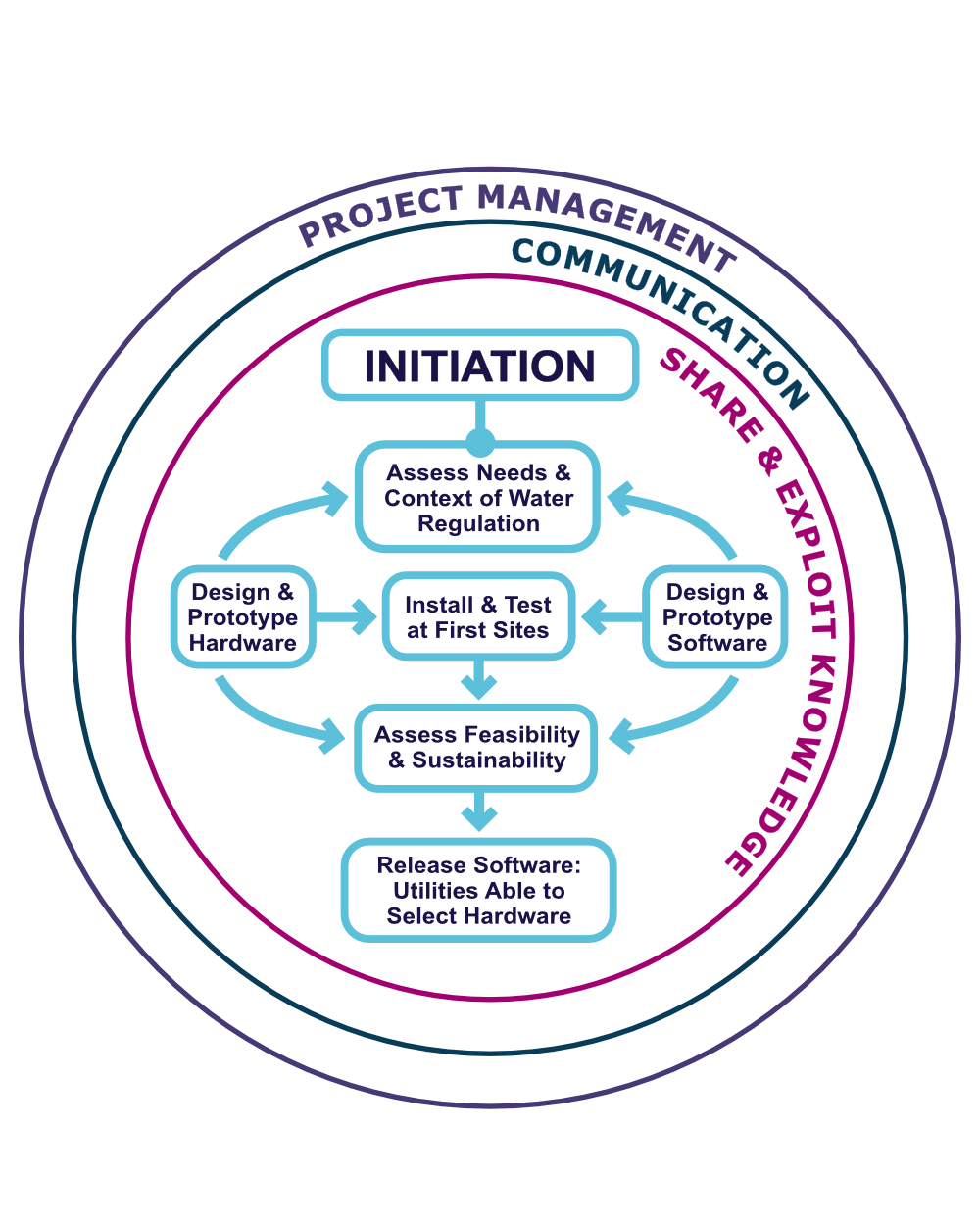 Work Packages
Working groups were given specific responsibilities:
Group 1: Project Management
Led by IRIS srl
Overseeing the overall management of the project, both operationally and financially.
Report on the project, financial and data management
Organise the Project's Advisory Board
Group 2: Small water management, loop technologies that enable water treatment and reuse
Led by Università degli studi di Torino
Identifying technologies that are able to meet wastewater treatment challenges within a circular water economy. Considering further opportunities, such as nutrient extraction for reuse.
Design and prototype hardware

Test technologies on a small-scale

Develop advanced closed loop control
Group 3: Integrated water management, planning and circular economy
Led by Universidade de Aveiro
Assessing current water management frameworks to understand the impact of implementing a new circular water economy framework.
Assess how to incorporate the new approaches into existing frameworks and the likelihood of adoption

Determine barriers and opportunities in water and spatial planning consent

Identifying challenges for institutions, stakeholders and communities

Determine barriers and opportunities for water regulators and utilities, such as standards and tariffs

Co-creation of solutions and means to implement a circular water economy
Group 4: ICT-based integrated water resources management and planning
Led by Politecnico de Milano
Developing a Decision Analytic Platform (DAP) to support decision-makers in strategic management, focussing on exploring alternative water sources and reused water.
Identification of indicators, such as sustainability (like greenhouse gas emission reduction) and technology costs, to drive the software's analytical engine

Robust portfolio planning to also drive the software's analytical engine

Design, develop and test the DAP

Demonstration of the DAP working with Acquedotto Pugliese at the site in Italy
Group 5: Demonstration of small loop of water recycling within a complex system
Led by IRIS srl
Installing and testing the newly developed hardware and software.
Prepare each site and carry out a pilot study to identify and make any necessary adjustments before installation

Assemble, install and test the technologies over four months, including collecting monitoring data

Train site staff to use the new technologies
Group 6: Sustainability assessments and performance monitoring
Led by Institute for Methods Innovation
Leading on sustainability assessments of the technologies to fully understand their performance and impacts.
Track key performance indicators and study system efficiency

Environmental life cycle analysis: identify and assess potential environmental impacts, such as water footprint, human toxicity, ecotoxicity, resource depletion and climate change potential

Life cycle cost and cost-benefit analysis: includes capital and operational costs, and cost reductions to determine real-world economic feasibility

Social life cycle analysis: assess other benefits from technology implementation, such as local employment

Social acceptance studies: use evaluation techniques, like focus groups, to develop a strategy encouraging acceptance of a circular water economy
Group 7: Circularity of water and circular economy
Led by Politecnico di Milano
Assessing business impacts of and opportunities for a circular water economy.
Model the effects of price regulation, cost and operational drivers on the adoption of new technologies

Design and test software to help businesses interested in reusing their water to select the best technology for their water treatment needs

Design and test user collaborative platform software

Develop and analyse a practical circular water economy model, and compare it with the current linear mode
Group 8: Communication and stakeholder management
Led by Rhine-Waal University of Applied Sciences
Communicating about the Project and managing the stakeholders to ensure participation and co-creation.
Analyse stakeholder attitudes and expectations about sustainability aspects of water management

Analyse expectations and capacities for communication with Project partners to increase efficiency and effectiveness of reach

Develop a Project communication strategy

Ensure ethical and legal compliance to help build trust in the objectives and activities of the Project

Create the Project website, newsletters, manage social media and ensure a legacy presence

Manage events at the political and science advocacy level focussing on co-creation

Use tools like social media to build a living community of practice beyond the Project
Group 9: Dissemination and exploitation of results
Led by Università degli studi di Torino
Providing the legacy of the Project, by ensuring results and knowledge are shared for further use. This includes ensuring technical standardisation and utilising Structural Fund budgets to encourage technology adoption beyond the first four installation sites.
Manage and encourage communication within the science community at peer level

Exploit possible further benefits for technology owners, software developers, and adopters such as water utilities and water companies

Ensure Project technical language complies with existing standards to further aid adoption at more sites

Create business plans under three categories: technology and tool providers, water utilities and industrial adopters
Group 10: Ethics requirements
Led by IRIS srl
Ensuring all of the work carried out in this project meets ethical standards. This includes:
Ensuring any participants give informed consent before activities take place

Processing data in accordance with the latest EU regulations and ensuring it is stored appropriately and securely

The appointment and engagement of an ethics mentor, and reporting on their activities with the project

Ensuring any data transferred from or to a non-EU country or international organisation complies with national and EU legislation and authorisation, and that this information is kept on file
Group 11: Application of selected Project Ô results vs SARS-CoV-2
Led by IRIS srl
A later expansion of the Project aiming to help restrict disease transmission through water management technologies.
Deliver a safe water disinfection system to be proven effective against SARS-CoV-2, and can further address the inactivation of most relevant human pathogens

Detect and quantify SARS-CoV-2 in wastewater

Deliver a sensor for in-situ detection of human pathogens

Involve stakeholders and communicate results